Drone Solution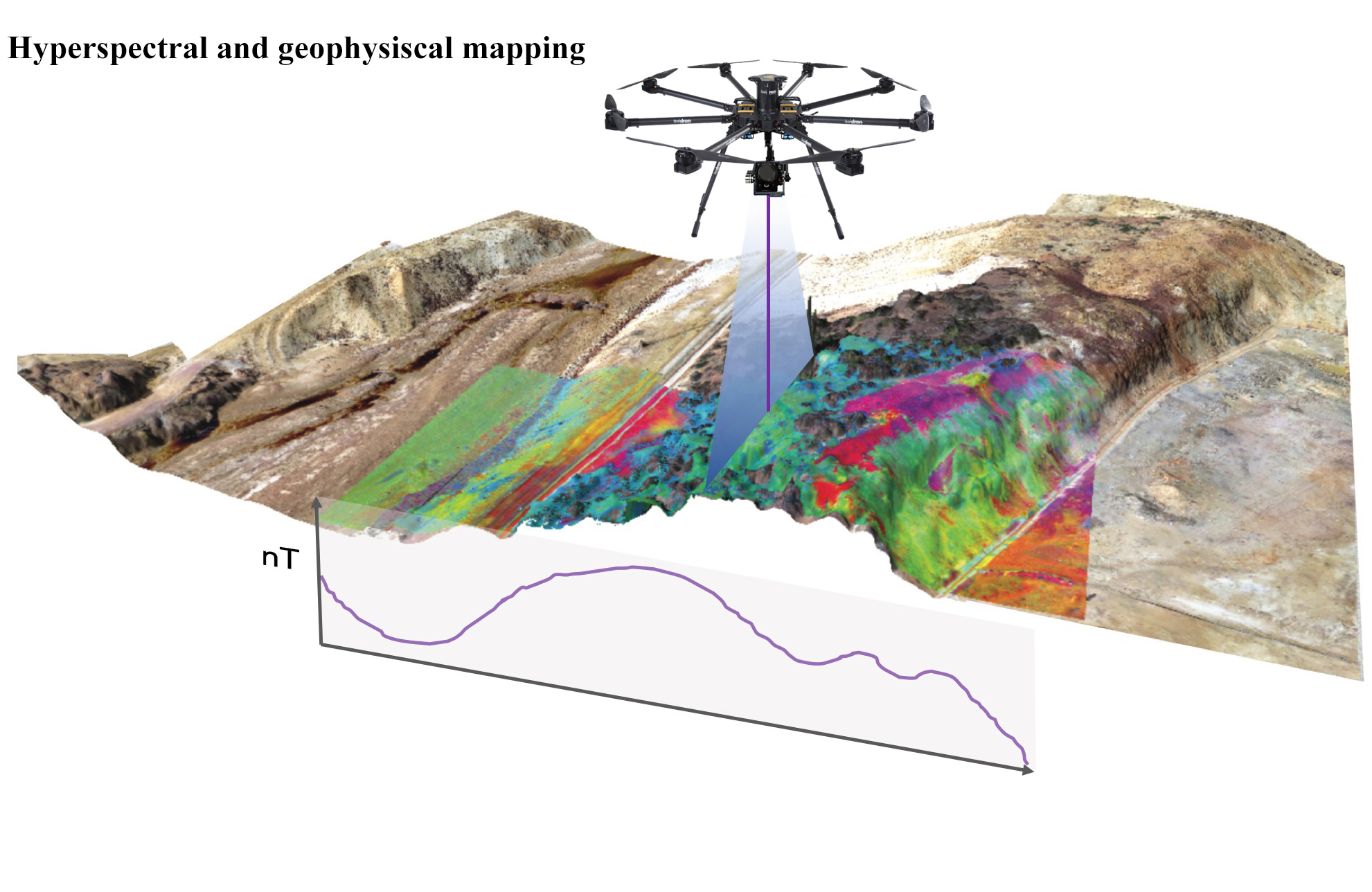 professionals who adapt drones into their mining operations quickly realize the significant added value they bring to their industry.
drones in mining improve the overall efficiency of large mine site and quarry management by providing accurate and comprehensive data detailing site conditions in a very short time. They also support better coordination among teams onsite and internationally, offering dynamic oversight of all operations.
APEX' drone solution provides a direct connection to aerial data and new levels of insight. This autonomous drone, streamlines operations, increases efficiency and offers immediate, easy access to the required data.
By use of high-resolution RGB cameras, professional hyperspectral and geophysical sensors, drones can identify types of minerals and geophysical anomalies early on. These valuable insights can reduce input costs and boost yield.
APEX provides high quality UAV services in the following areas:

• Hyperspectral mineral mapping and geophysical surveying.
• Infrastructure and equipment inspection.
• Terrain mapping and change detection.
• Asset management and scheduling.
• General Project Oversight.
• Security and surveillance.
• Inspection & Monitoring.
• Stockpile Management.
• Geotechnical Modeling.
• Hauling Optimization.
• Drilling & Blasting.
• Tailings Dams.
APEX's Drones
ITAL Drone BIGONE 8HSE

Flight planning software to perform "grid and survey" missions for georeferenced aerial photogrammetry.
Data link equipped with RTH (return to home) with auto landing, auto take-off and position hold functions.
Redundant auto pilot provided with internal inertial platform, GPS, barometer.
high-resolution 42mpx photogrammetric sensor (SONY A7-Rll).
GPS Waypoints configuration for autonomous flight missions.
Eight high efficiency brushless motors and carbon propellers.
Telemetric Data link for flight information and remote control.
Fast folding arms, carbon fiber frame for easy transport.
Standard equipment automatic safety parachute.
3-axes Gimbal for high stability capturing.
Max. range: 1,5 Km (LOS).
Wind resistance13 m/s.
Max. speed: 10 m/s.
Payload: 10 Kg.





VERSA Drones HLO


• Arms can easily be removed to minimise packed size and make transportation easier.
• GPS assisted flight with altitude hold, position hold and waypointing available.
• Assembled by hand to ensure each custom built UAV has complete reliability.
• 8 brushless motors and carbon fibre 15" rotors for maximum performance.
• Multiple high capacity Lithium Polymer battery packs give long flight times.
• Airframe made from carbon fiber for a lightweight, strong, rigid structure.
• Semi-automatic take-off and landing, and return to base failsafe.
• 3 axis brushless gimbal with independent control.
• 2 operator control as standard.
• High performance octocopter.
• Live streaming of HD video.
• Payloads of up to 12kg.
• Max speed: 70km.
• Max altitude: 2km.